Our Trials
Prescient has a broad pipeline of personalised cancer treatments, comprising CAR-T and targeted therapies, and spanning a range of different cancers. Prescient has licensed technologies from and collaborates with, world-leading cancer centres in the US and Australia.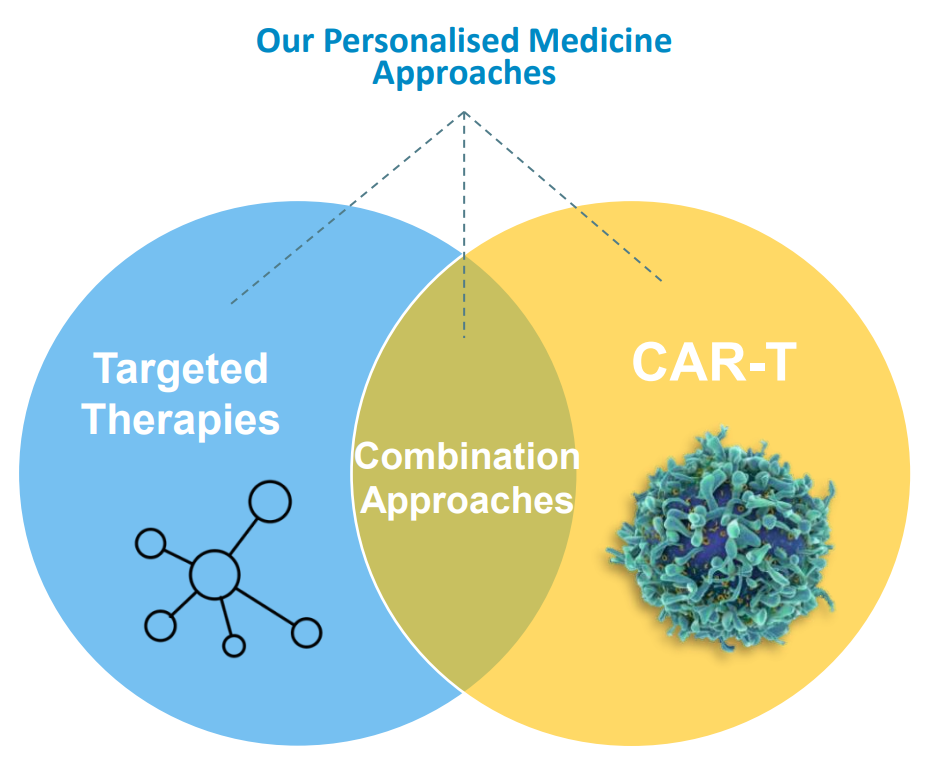 OmniCAR: is a universal immune receptor platform enabling controllable T-cell activity and multi-antigen targeting with a single cell product. OmniCAR's modular CAR system decouples antigen recognition from the T-cell signalling domain. OmniCAR is based on technology licensed from Penn; the SpyTag/SpyCatcher binding system licensed from Oxford University; and other assets. 
UPenn is an acknowledged pioneer and world leader in CAR-T technology. The first CAR-T therapy approved by the FDA (tisagenlecleucel, brand name Kymriah®) was licensed from UPenn by Novartis.  UPenn has established extensive facilities and capabilities dedicated to CAR-T research and development.
As a platform, OmniCAR is an enabling technology, compatible with and enhancing third-party CAR-T approaches, and our goal is to harness OmniCAR's innate adaptability and control to produce novel CAR-T products for new indications, and improve the cost; time and effectiveness of delivering CAR-T therapies worldwide.
PTX-100, a Phase 1b clinical candidate: PTX-100 is a first in class compound with the ability to block an important cancer growth enzyme known as geranylgeranyl transferase-1 (GGT-1). It disrupts oncogenic Ras pathways by inhibiting the activation of Rho, Rac and Ral circuits in cancer cells, leading to apoptosis (death) of cancer cells. PTX-100 is believed to be the only RhoA inhibitor in the world in clinical development.  PTX-100 is currently in a PK/PD basket study of hematological and solid malignancies, focusing on cancers with Ras and RhoA mutations.  In a previous Phase 1 trial in advanced solid tumors, PTX-100 was well-tolerated and achieved stable disease.
PTX-200, a Phase 1b/2a clinical candidate: PTX-200 is a novel PH domain inhibitor that inhibits an important tumor survival pathway known as Akt, which plays a key role in the development of many cancers, including breast and ovarian cancer, as well as leukemia.  Unlike other drug candidates that target Akt inhibition which are non-specific kinase inhibitors that have toxicity problems, PTX-200 has a novel mechanism of action that specifically inhibits Akt whilst being comparatively safer.  This highly promising compound has encouraging Phase 2a data in HER2-negative breast cancer, Phase 1b/2 in relapsed and refractory AML and Phase 1b in recurrent or persistent platinum-resistant ovarian cancer.
We are also working on developing new approaches to CAR T cancer therapy, a new game-changing treatment approach that has demonstrated an incredible 90% full remission rate for certain blood cancers.
Pipeline